125 miles.
We made breakfast and headed towards Yellowstone. We crossed the Divide a couple more times and stopped to see Old Faithful. A lot of waiting, build up, anticipation, but not much of a show. We got wet though.
We continued through the west side of the park and stopped at Norris Geyser Basin, which is very, very cool.
Because of Rudi's tire, we did not explore the northern or eastern parts of the park.
We left the park and ate lunch in West Yellowstone and headed towards Hebgen Lake to meet up at the base camp for the Buffalo Field Campaign.
We were welcomed and unloaded our gear and headed down to the lake for a swim. We spent the rest of the afternoon and evening sitting around and talking to a few of the volunteers. We made dinner on a real stove and continued hanging out into the night. We were going to wake up and watch the meteor shower in the middle of the night, but the full moon lit the sky up too much. We camped on the front lawn.
Fattys waiting.
A squirt and some steam.
Midway Geyser Basin.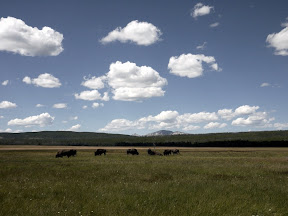 Some buffalo.
Montana. USA.
Slanty shanty.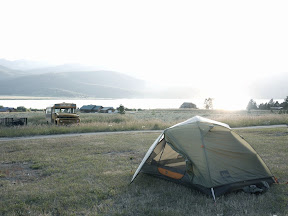 Home for the night.
Bug Report.
7/10
Today was pretty good. Caught a lot of little guys near the lake.