90 miles.
I decided to take care of my leaking left valve cover, I figured it was just a crappy gasket. To my surprise my left cylinder head had warped, like the right one. With out the time to take it to a machine shop I rode into Hurricane, UT on Rudi's bike to buy some RTV sealant. It did the trick, a little ugly, but sealed.
We left Zion and headed towards Bryce, the scenery changes almost immediately as you are now in a higher elevation with trees and mountains. It's a gorgeous, but short ride to Bryce. We quickly get a spot at the North Campground and take the shuttle to Bryce Point and walk the 3 or so miles Rim Trail. Its late in the day and we make it back to our campsite and head off to listen to a Ranger give a speech about astronomy. I eventually start to doze off and wander back to my tent for bed.
Tourist overlook 1. Bryce Canyon.
Tourist overlook 2. Bryce Canyon.
Mr. Lizard.
Vee luuvv Amereeca! Euro Rudi.
USA USA USA!!!!!!!
Wall Street.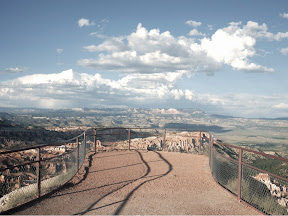 Tourist overlook 3. Bryce Canyon.
Bug Report.
4/10.
Not many out. Kind of a bummer.