144 miles.
I slept well and late. We went next door to the Cowboy Cafe for breakfast and I made sure to get some of their pie togo. As we were leaving town we had a little scare with Rudi's bike when the oil light came on briefly. We topped up and headed towards Jackson.
They're still doing a ton of construction over the pass and it ate up a lot of time.
We eventually made it to Jackson and stopped at the market to stock up on food. I noticed that Rudi's tire was wearing super fast, less than 3,000 miles and it was almost bald. The closest place that could get us a tire was in Missoula, Montana almost 500 miles away. We told them we'd be there by Saturday.
We cruised through the park, which took way longer than we expected and we were looking for some of Rudi's friends who do the Buffalo Field Campaign. By the time we figured out where they were we were on opposite ends of the park and it was getting late.
We got a spot at Lizard Creek CG, it was alright, but this was the second National Park we've been to on this trip that has contracted out their campgrounds to private companies and they charge insane rates. $20.50 at Teton and $25.00 at Mesa Verde. It's criminal.
Anyway, we went for a swim in Jackson Lake, made dinner and crashed out early.
Snake River and the Tetons.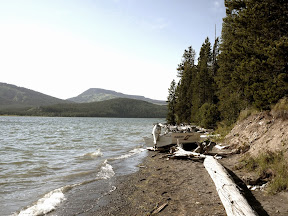 Jackson Lake.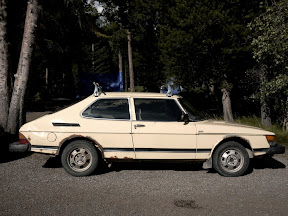 Babe mobile.
Bug Report.
5/10
Nothing like yesterday, but a few guys.