383 miles.
We left Rocky Mountain National Park early in the morning because we knew we had a long day ahead of us. At the entrance to the park is the Grand Lake Cemetery, where our grandmother is buried. We stopped there and planted some Columbine seeds. She died 14 years ago, but I still miss her dearly.
We headed north to Wyoming and followed a river for awhile, river roads are always super fun for me. Rudi's bike was finally handling well and he was blasting.
Once we got into southern Wyoming it started to get pretty windy and flat and Rudi was questioning why the hell we were there. Eventually the mountains appeared in the distance. We were planning on camping up in the mountains above Dubois, I was there last summer for a job and knew of a few awesome places. By the time we got into Dubois we were both pretty pooped and decided to get a hotel instead. It was my first shower and bed in 8 days, it felt great.
Our grandmother's grave.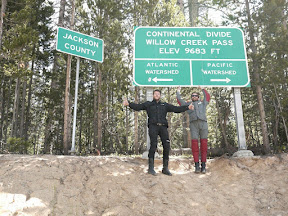 Willow Creek Pass.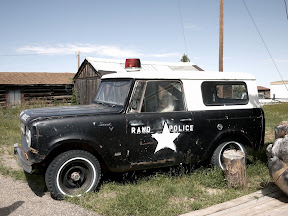 Mummified police.
Rand, CO.
Wyoming, USA.
Bug Report.
10/10
It was a fucking bug holocaust. I guess this explains why we've been getting eaten by Mosquitos so much, payback.