258 miles.
Tim Hortons is awesome. We stopped there and had donuts and coffee before heading to the Canadian Badlands to visit the Royal Tyrell Museum. It's about 170km northeast of Calgary and is one of the largest dinosaur museums in the world.
We got into the town Drumheller, where it is located and were immediately swarmed by dinosaur stuff everywhere. They take dinos very seriously in this town.
The museum was pretty amazing and they had tons of complete skeletons, many which were found in the nearby badlands. Even Queen Elizabeth has been there, I wonder if she braved the boring ride there or got to take a chopper.
From there we headed west once again and made a beeline to Banff. We eventually got there, stocked up on food and got a spot at Two Jack Lake campground. The Provincial campgrounds are expensive ($21.50-$40.00), but they are really nice and have hot water. Chef Rudi cooked up an awesome meal again and we headed into Banff to check the town out.
Banff is like any other resort town, tons of tourist shops and "resort wear" shops, but we're tourists right now so we soaked it up and bought postcards and other crap. We also found a coffee shop with free wifi, so we caught up with our emails and internetting since our phones are off here.
Rudisaurus Rex.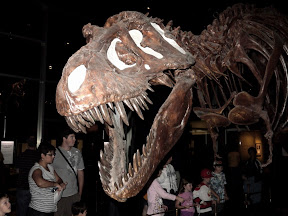 Tyrannosaurus Rex.
Don't pay the fish.
Some kind of Dino.
Another Dino.
Downtown.
Not a safe neighborhood.
Proof that man was around with the dinosaur.
Wheat County. Alberta.
Middle of nowhere.
Two Jack Main campground. Site 2G.
Lake Minnewanka.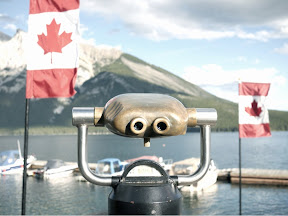 Lake Minnewanka.
Bears fucking.
Dream car.
Bug Report.
9.5/10
Another day of smashing bugs and today was great. I even caught a little yellow butterfly on my forks. Take that jerks!