269 miles.
Rudi's forks have been getting worse and worse. He sometimes gets gnarly speed wabbles in turns, by the time we got to Bryce last night they were completely bottomed out. We do a quick flush in a parking lot and they seem to be a bit better. A mechanic at the repair shop in Bryce City suggests putting PVC pipe in as a preload spacer, if the oil alone doesn't work we'll try it. We leave Bryce and head east towards Kodachrome State Park. The road there is amazing and super fun, they don't take the National Park pass so we head back on the main road. We're trying to get to Mesa Verde today, to meet up with my older brother Erik, his wife Julie and her family.
We stop for gas is a little town and the station also happens to be the towns hardware store. Perfect time to add those PVC preload spacers on Rudi's bike. After an hour or so we're back on the road. We go over the mountains on SR 12, a fantastic, windy, high elevation road and then through Capital Reef NP. It's getting late and starting to get apparent that we won't make it to Mesa Verde, so we settle into staying at Natural Bridges National Monument. It's empty and we get a nice spot, make dinner and watch the stars.
Feeding the baby.
SR 12. Utah.
Capital Reef.
Petroglyphs (lower mid frame). Capital Reef.
Bike crew. Capital Reef.
Lazer.
Moon man on the moon.
Small fire.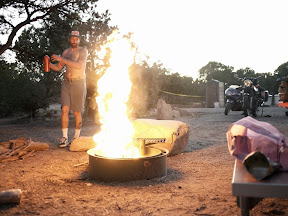 Big fire.
Bug Report.
7/10.
Lots of little guys. And one juicer to the shield.