260 miles.
We left our campsite and made the trek over Logan Pass. They have been doing tons of construction along the Going to the Sun Road, so we got to sit in traffic. By the time we got to the top it was starting to rain and getting really windy and cold. It took about 2 hours to do the 40 or so mile trip.
We fueled up and got our paperwork ready to cross into Canada. Rudi was asked to pull in for an inspection and it took forever, I figured he was getting a cavity search or the Canadian Welcome. They searched me too, but they just wanted to make sure I was carrying bear mace and not human mace.
We took our obligatory photo in front of the welcome sign and headed on our way, we finally made it!
Alberta is like the Midwest. Pretty flat and very windy. We got pounded. It is very beautiful, but the wind was miserable. We made it into Calgary and started looking for hotels, they were all super expensive, just like the fuel. We ended up at an overpriced dump, but it was the cheapest. Rudi went out to buy some more oil and I stayed in and caught up on stuff. We only had one queen bed, but it was still twice the size of our tent. I slept like a baby.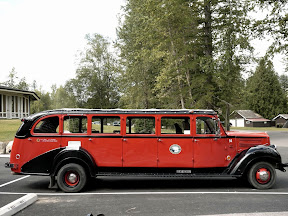 Glacier NP "Jammer"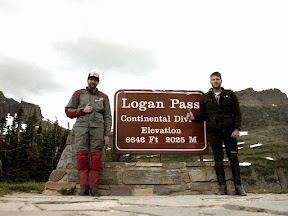 Last US Divide crossing.
Eewwww Eeesssss Aaaaayyyyy!!!!! Vee luuuv eeett!
Border wait.
I'm in two countries at once!!!!
More border wait.
Rudi mad. Me glad.
Alberta. Canada or Kasas, USA?
Bug Report.
9/10
I fucked them up again. I even got some smears. I think the national bird in Canada is the mosquito.